Visiting a restaurant usually turns out to be an unhealthy decision with loads of irresistible unhealthy dishes ready for you. However, several major chains have now started to exclusively focus on delivering healthy and nutritious fast food options to their customers. This particular move is to satisfy the consumer group that wishes to have healthy fast food to eat. The following are some of the life-saver healthy dishes which come in handy when you don't possess the energy or time to cook one at home.
Meatballs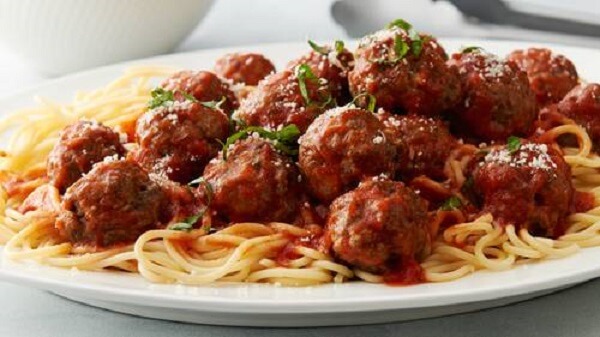 In Italian restaurants, meatballs are normally served with different pasta dishes. However, it is healthier to order meatballs with vegetables or a salad on the side instead of adding unnecessary carbs in the shape of pasta.
Low-Calorie Chicken Fajitas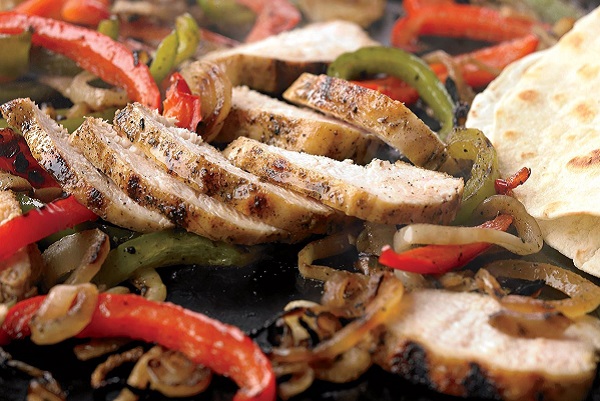 When you visit a Mexican eatery, it is not necessary that your ordered meal should be covered in Cheese. Fajitas are the recommended option for your healthy meal. This combination of grilled veggies and lean protein significantly limits your calories to a healthy number. It is advised that 1-2 tortillas can be consumed with this order. Beans are also a good alternative to tortillas. In the case of ordering chips and salsa, it is necessary to eat with caution and not consume too much.
Sandwich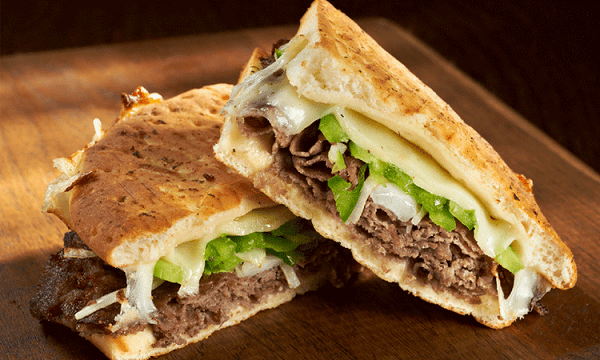 Sandwich can prove to be a healthy fast food order. You can order a tuna salad sandwich containing turkey slices, avocado, roast beef, and tomatoes. The easiest way of cutting a considerable amount of carbohydrates from your sandwich is taking off the top. Eating your sandwich without the top, hence open-faced, is a great trick that cuts down calories.
Chinese Food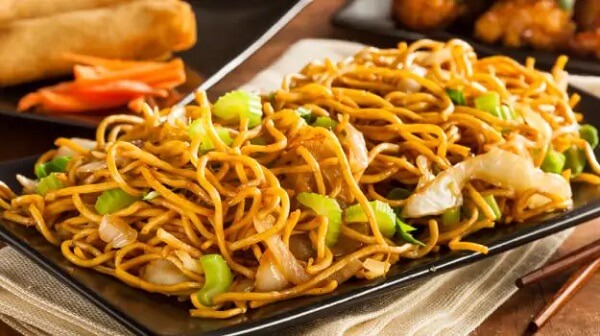 While visiting a Chinese restaurant, don't be tempted by deep-fried chicken or egg rolls as they are bombarding with refined carbs. Instead, order some stir-fried meat (i.e. chicken and beef) and vegetables (green beans, broccoli, cabbage, etc.) on the side along with a brown sauce. Broccoli and beef make a great combination, some other deliciously healthy Chinese orders are Kung Pao chicken, Buddha's Delight or vegetables stir fry. Rice should be altogether avoided.
Vegetable Sushi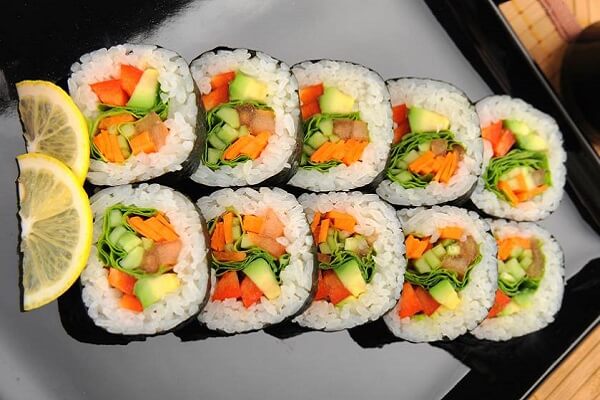 Sushi restaurants always incorporate loads of wonderful options in their menus, which gives you the freedom of choosing whatever you want. The advised amount of sushi is 1-2 rolls. Instead of sushi, you can also order some pieces of the Sashimi. Some restaurants also make "Naruto", it is a form of sushi in which cucumber is used for wrapping as an alternative to rice.
Tandoori Chicken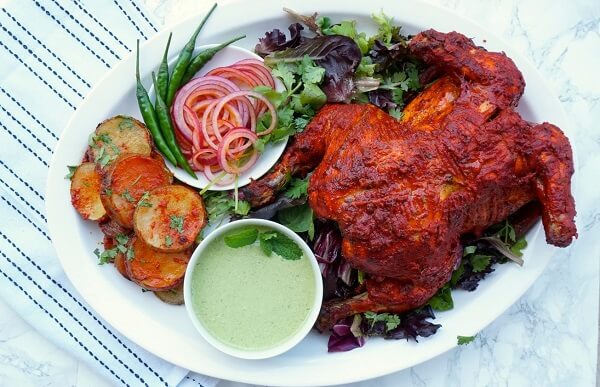 While the dishes from Indian cuisine are mostly drowning in heavy sauces and strong spices, tandoori chicken is a good protein order which is enriched with flavor and does not contain extra fat. This lean protein meal can also be made with beef or lamb, and it will remain healthy. A clay oven is used to prepare this dish with light sauces. It is wise to choose healthy lentils or vegetable dishes on the side e.g. saag, baingan bharta, aloo gobhi, or mixed vegetables.
Lettuce Wrap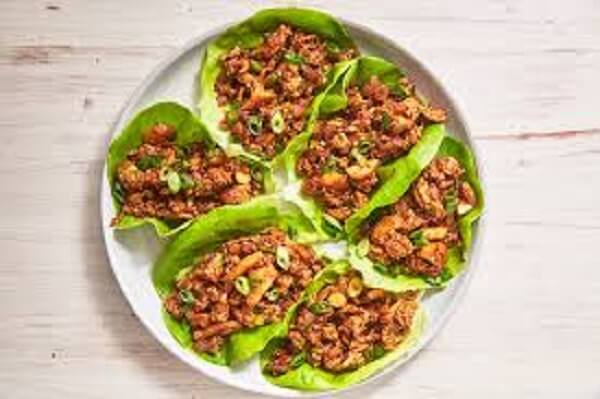 Burgers always had a bad reputation among people who stay concerned with their health. But, there are a lot of ways this particular dish can be turned into a healthy meal. Instead of using the bun, you can enjoy your burger wrapped in lettuce. Collard greens are also a good alternative to buns for wrapping your burgers. This healthy meal can be taken with a side of fries made from sweet potatoes or a salad.
Grilled Skirt Steak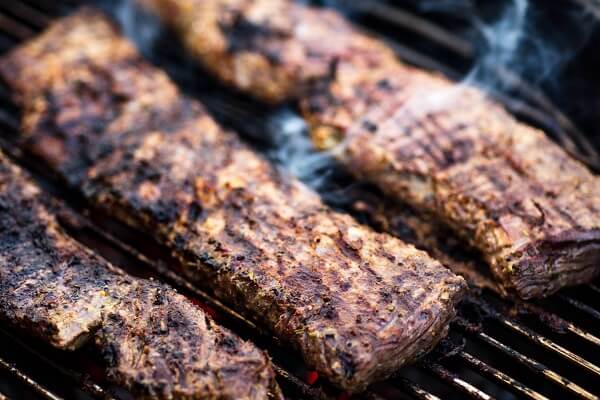 It is declared by health officials that steak is a healthy meal. However, it is important to remind oneself not to overdo it. 4 oz. is the right healthy amount for consuming one grilled steak. The steak can be enjoyed with your favorite grilled or steamed veggies. Another good alternative to steak and vegetables is asparagus and salmon, this meal has highly nutritious.
Soups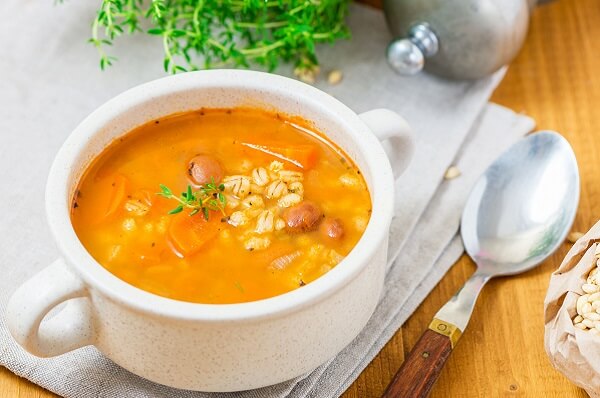 When looking for a soup, it is better to find options containing low-carbohydrates instead of wasting all your carbs and calories on heavy options of soup. Some great options in this regard are broccoli, cheddar, mushroom cream soup, or any soup made out of a broth. The mushroom cream soup can prove to be very satisfying if you want to have only soup for the entire meal.
Pizza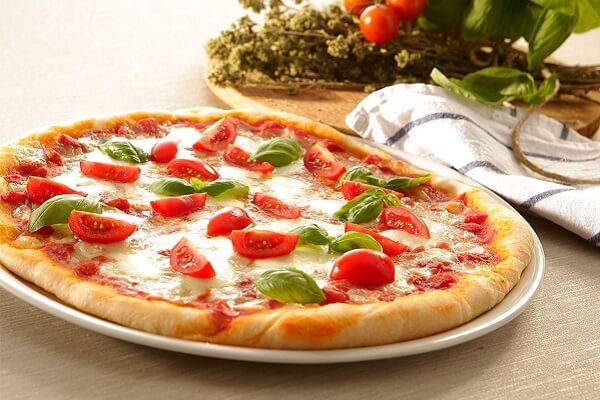 Pizza can always be considered a healthy fast food option. The important trick in this regard is portion control. Only half of a personal pizza should be consumed in one sitting. Also, thin-crust and whole wheat crust pizzas should be ordered as a healthy option.
Bar-Be-Que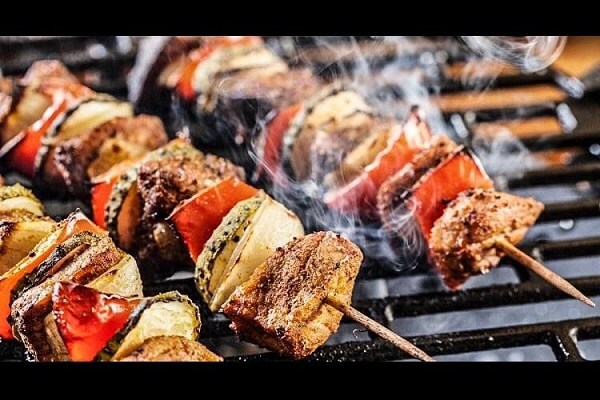 In Barbeque, the great thing is that there are many options and you can choose any. Any 4 oz. of bbq protein with vegetables on side is a healthy meal. It is healthier to avoid the starchy side options.