Imagine taking a vacation where your partner is stretched out on a beach sipping on their Piña Colada. That's when you get down on your knee and pop the big question while he stares back wide-eyed, jaws to the floor, thoroughly surprised! Fast forward to your wedding ceremony and you both are exchanging men's silver wedding bands!
Sounds perfect, doesn't it?
We have all seen those dreamlike snaps on Instagram with exotic locations in the backdrop. This is why getting engaged on a vacation is extra special. It will create a beautiful memory that you will cherish forever!
Taking time off to go on a vacation may be relaxing, but planning a proposal while being on the said vacation can be downright stressful. That doesn't mean it can't be done. You just need to iron out the basics and plan everything in advance so that you don't feel overwhelmed.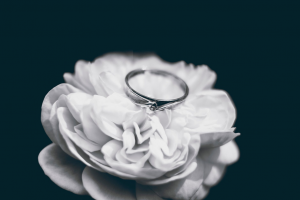 Here are 8 steps that will help you plan the perfect proposal for your man!
Choose a Location With a Wow Factor
As the entire theme of your engagement relies on a vacation, choosing the perfect location is extremely important. Your best bet is to choose your partner's dream location. Or, the wow factor could be a beautiful spot that holds special significance for both of you.
For instance, you could be blowing off steam in the Bahamas when your partner sees a 'Will You Marry Me' banner laid out! No one could say 'no' to such a spectacular proposal!
Plan What You are Going to Say Beforehand
This applies to every proposal really and for good reason. Think about what you'd want to say when you ask your partner to marry you. Once you have figured that out, it is best to practice saying it out loud so that you are more confident. Speak from the heart and don't let your nerves get the better of you.
Make a Plan for the Whole Day
Don't just plan to the point of you popping the question. Plan for later as well to make the entire day cherry on top special. Extend the romantic feeling with celebratory drinks and gourmet food! Book a fun couple's activity for later. Just plan a romantic getaway that's all about you and your partner.
Think about the Perfect Time of the Day to Pop the Question
If you have plans to capture the moment, then the time of the day will matter the most. Your photographer will be able to capture your big moment better if you propose in the afternoon or early evening. That way, there will be plenty of light for perfect pictures. In case of dinner proposals, plan to pop the question before sunset to avoid being cloaked in darkness.
Dress to Impress
Not that your partner will need any more impressing from you, it's still a good idea to dress well for the occasion. Even if you are at the beach, avoid wearing clothes with bright patterns. Don't wear shirts with printed logos. Think about how big the moment is in your life and dress accordingly.
Ensure that Your Partner Dresses Well Too
It is your responsibility to ensure that your partner is dressed well too! If you are going for a more laid-back outing like a stroll on the beach or maybe a hike, see to it that your partner is wearing an outfit that would make them happy to look back on the photos for years to come. You can always come up with an excuse that you have reservations for lunch or dinner later on.
Get the Hotel Staff In on Your Plan
Consider reaching out to the property and let them know about your proposal plans beforehand. The hotel staff really appreciates being able to play a role in something so special and important. Plus, it's very likely that they have more experience planning surprise proposals and they can help you with great suggestions!
Think Outside the Box
If your partner is a big fan of the classic 'ring at the bottom of a champagne glass', then, by all means, pull this move off! Or you could think a little outside the (ring) box and pop the question with the ring concealed in a seashell or maybe the menu?
If the hotel staff is in on your plan to propose, the concierge can help you come up with an idea to distract your partner with a welcome drink or a false holdup. This time can then be used to place the ring safely with the hotel staff until it's time.
Another thing to keep in mind is that you will be traveling with the ring so take special care to keep it safe. The same goes for men's silver wedding bands if you are getting married abroad!
And there you have it – a step by step plan for the perfect proposal while vacationing! Just make sure that you get the ring insured and you are good to go.