Seemingly, within the blink of an eye, you might find yourself taking care of your ailing parents. The same people who raise you, one day require the same amount of attention and care from you. This role reversal can seem daunting!
The Inevitable Future
With every passing year, the senior population is increasing at a rapid pace in the US. According to a World Population Ageing report by the United Nations, there were over 962 million people over the age of 60, around the world in 2017.
In the US alone, in 2016, there were over 46 million seniors, with ages over 65 years. By 2060, this figure is projected to double. Compared to other states, Texas is among the 11 states that have a high concentration of ailing seniors.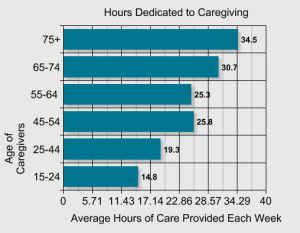 Source
And the older your parents get, the more care they need. According to the Family Caregiver Alliance, with increasing age, the number of hours of care required by caregivers also rises. For instance, when an individual reaches the age of 75, 34.5 hours of care is delivered by caregivers every week for their comfort and health.
However, there are only so many caregivers can do for your parents. At the end of the day, they are your responsibility. Once your parents reach an age where their health starts actively deteriorating, it is time to get guardianship of your elderly parent.
What is Guardianship?
When an individual reaches an age where they experience age-related illnesses, disabilities, or injuries, generally, it is advised that they assign a power of attorney for their healthcare and finances. In case they don't do so, guardianship for the elderly can be sought.
There are two terms that you will come across when you try to seek guardianship of your elderly parent. This includes conservatorship and guardianship. Both are often used interchangeably but are slightly different.
Guardianship allows you to have control over your parent's life, healthcare, and day to day needs. On the other hand, conservatorship gives you control of all the financial decisions, ranging from bill payments to budgeting.
The Process
The court appoints a legal guardian for the elderly when they are unable to make rational and logical decisions about their lives. This is especially needed when the said person does not agree to cooperate in a way that makes their lives difficult.
For instance, your elderly parent may not agree to move out of their home into an assistant living solution. Other times, family members don't see eye to eye on the desired course of action, and the parent is already too incapable of signing a power of attorney or giving their rational opinion.
This is when a petition can be filed for any of the children to be assigned as a guardian of the parent. Remember, this does not mean that your elderly parent is stripped off of their legal rights as an adult. It just means that their responsibility is assigned to you legally.
To get guardianship of your parent, find the best guardianship attorney in Plano or any city that you reside in. Then, file a petition in the court. Be ready with proofs as to why you think your parent is no longer legally competent to make decisions regarding their healthcare and finances.
Proofs include expert medical opinions, including getting a court psychologist to examine your parents and share their insight. Then, your job is done, and the court has taken the decision.
What does the court decide?
The court needs to determine quite a few things before appointing guardianship.
Firstly, they must govern whether your parent even needs a guardian or conservator in the first place. Here, their competence to make decisions regarding their life is gauged.
Once the court is convinced that a guardian must be assigned, they need to determine which of their offspring is most equipped, financially, and intellectually, to serve as a guardian.
If you get appointed as a guardian, you become legally responsible as well as accountable to the court for every decision you make regarding your parent. Some responsibilities include:
Deciding their living arrangements
Controlling finances
Deciding on their healthcare plans and needs
Setting up new financial accounts
Become their representative payee by taking the court papers to the Social Security Administration.
If the case requires, you have an obligation to put them in a nursing home if necessary.
Any end-of-life decisions, if need be.
When to file for guardianship?
The question arises, how do you know when it is time to file for guardianship of your elderly parent? Here are some instances where the need may arise:
When your parents refuse to sign the power of attorney
A lot of ailing parents refuse to sign a power of attorney or are no longer capable of doing so due to diseases like dementia. If this happens, soon, a time will come when you realize that your parents no longer know what they are doing. Here, getting them to sign documents might be easy. But, it is morally wrong to do so.
This is when you should call an attorney and seek guardianship.
Selling real estate or investment
Even if you have power of attorney, you don't have the right to sell your parents' properties or investment. For this, you need to become their guardian.
Refusal to go to a nursing home
A time will come when, despite your best efforts, you will not be able to provide the optimum care to your parents. Often, doctors too advise admitting aging individuals into a nursing home so that they receive the attention and care required.
However, parents may refuse to go to a nursing home. By becoming their guardian, you have the legal power to intervene and do what is best for their health.
Ending Thoughts
Taking care of your aging parents is not easy. Become their guardians if the situation demands so. Take care of them to the best of your capabilities. You owe it to them.